Arles Freestanding Bath Suite - Curved
Arles Freestanding Bath Suite - Curved
Description
The Arles Freestanding Bath Suite from Affine looks as though it has just come straight out of a magazine. The suite features 3 bespoke products:
Affine Arles Basin and Full Pedestal
Affine Arles Space Saving Toilet seat
Affine Blanc Freestanding Bath (curved)
This suite is the definition of modern from the curving edges of the bath to the soft close toilet seat. Let's start off with the Basin and pedestal, featuring steep sloping sides which cascade into a beautiful deep basin which will allow for more than enough water, the deep basin makes it perfect for families. The beautiful and modern basin will fit in snugly with the rest of this suite, boasting a fresh contemporary setting. The compact build of this basin also makes it perfect for those with smaller bathrooms. Manufactured from the highest of quality ceramic, this will ensure that it will enjoy a fulfilled lifetime of washing. The smooth ceramic surface also makes it easy to maintain a fantastic shine.
Moving onto the toilet, as the name suggests this space saving toilet is perfect for those with smaller bathrooms, this due to its short projection pan, this basically means that it doesn't stick out from the wall and not wasting space, where space is limited. Another benefit of this toilet is that not only do you save space but you also save money on your water bill as this toilet features a dual flush button allowing you to choose between two different flush settings. Yet another benefit is the included soft close toilet seat which protects the pan from any damage if you should accidentally drop the seat on the ceramic.
And finally the main attraction, the Blanc Freestanding Bath from Affine. This stunning bath will provide a stunning focal point for your bathroom the beautiful egg-shaped design will complement this suite perfectly. The softly rounded curves of this bath will provide a pleasant bathing experience for all. The contemporary design of this bath will add 'wow factor' to your bathroom and create a luxury statement. Made with high-quality white gloss acrylic, this bath is designed to withstand the test of time. The Affine Blanc Freestanding Bath comes complete with a dazzling built-in waste and overflow for easy installation,
Features and benefits:
Bath:
Manufactured from high quality and durable acrylic
Provides you with a focal point in your bathroom
Finished in a fresh and clean glossy white
This bath is only suitable with Freestanding bath taps, you can view our range of beautiful freestanding bath taps HERE
Includes a built-in stainless steel waste and overflow
Basin:
Finished in an alluring white
Includes one pre-drilled tap hole, so you can include your own tap
Small structure makes it ideal for smaller bathrooms
Constructed from the highest quality ceramic
Toilet:
Like the other products, finished in a stunning white
6/4 Litre Flush
A dual flush button will save you water
Includes a luxury soft close toilet seat
All fittings are included for an easy installation process
Bath Dimensions:
Length: 1700mm
Width: 745mm
Height: 580mm
Capacity: 210 litres
Guarantee:
Has 2 year manufacturer guarantee on Freestanding Bath
Has 25 year manufacturer guarantee on Ceramic Toilet and Basin
---
Arles Freestanding Bath Suite - Curved
360 Image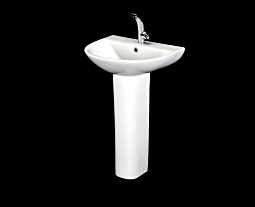 Techincal Drawings